The guidebook of applied Industry I4.0 solutions is a first-of-its-kind online resource to assist executives/practitioners in industrial multinationals seeking proven Industry 4.0 applications. The detailed applications have all been implemented by industrial corporations all over the world.
The Use cases
The use cases detailed here include:
The description of the solution
The operational value delivered when implementing the solution
A list of reference customers (where they can be exposed)
Geographic locations where the solution is available
The estimated time to implement the solution
A case-study
A product demo clip
The company profile
A brochure
A company video clip
Filtering Use Cases
All use cases are mapped and can be filtered by:
The operational challenge areas that the Industry 4.0 solution addresses
The industrial vertical applied
The unique resources of the use case, i.e. high-profile customers, attached case-study
Challenge Areas
The list of Operational challenge areas cover Operational excellence, Digital transformation, and Physical innovation:
Operational Excellence

Process productivity/yield improvement – Asset/process performance management

Quality enhancement (inspection, process control)

Availability improvement and downtime reduction (i.e predictive maintenance, reliability)

Supply chain & logistics resiliency, efficiency and visibility

Energy-savings & transition
Digital Transformation

Implementation of multi-sensor integration systems

Process digitization and automation

Communication and data integration (understanding and aggregating of data to optimize field operations)

Cybersecurity of operational networks

Recruitment and development of new talent
Physical Innovation

Disruptive production methods using 3D printing
Data collection using sensing and imaging
Complex task automation using robotics, drones, etc.
Brown-field asset implementation
This our latest Global Industrial Innovation Report this is how dozens of the largest industrial multinationals rated the priority of each challenge area (3=Top priority, 2=Medium priority, 1=Low priority):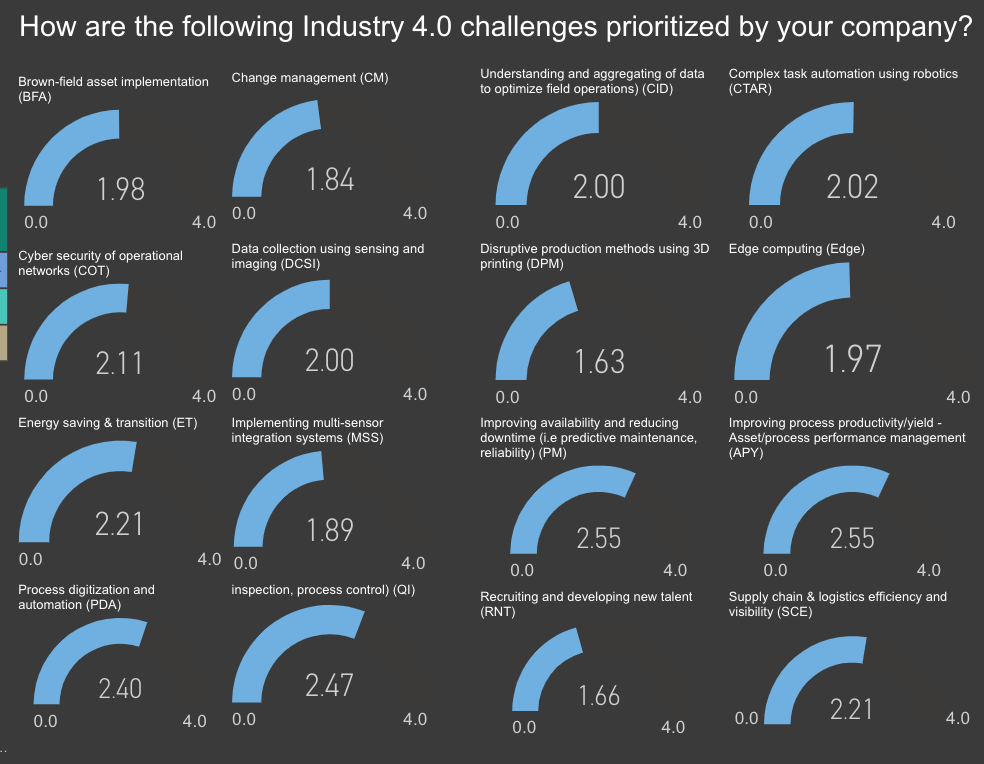 Summary
Our goal is to help you engage effectively with innovative technology providers. Therefore, each case can be downloaded and sent to your email, or you can ask for an introduction to the company.
All the information is available for free, but registration is required to facilitate our service. Your data will be kept private and allow us to send you cased, introductions, additional information, and updates.
We will constantly update the information and add more cases, so be sure to visit our guidebook regularly.
Stay Safe,
Yariv Lotan
Start-up Nation Central
yariv.lotan@sncentral.org